Cheese Maker Certificate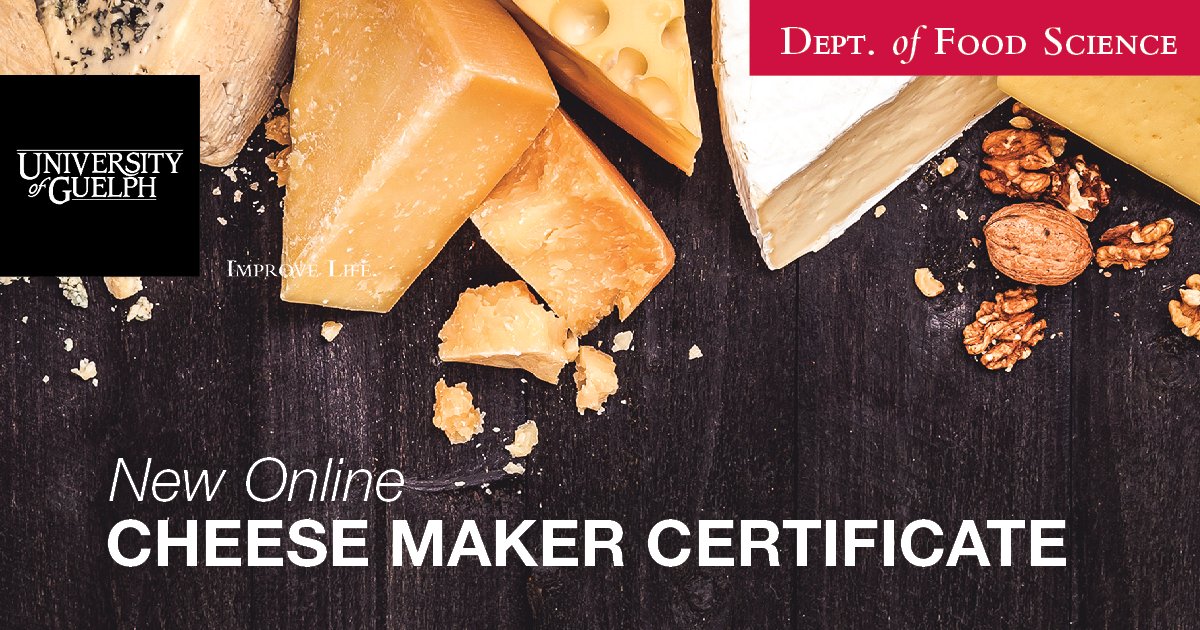 Cheese Maker Certificate:
The Cheese Maker Certificate program provides instruction in all aspect of cheese making - scientific and technological principles of cheese making, unit operations, cheese technologies from A – Z, safety, quality control, grading and more. The program also offers an ongoing opportunity for any cheesemaker to attend Master Classes that focus on particular cheese varieties or technologies.
The certificate consists of four required core courses, two master classes and an internship. The Introductory to Cheese Making course is optional for those who have experience in cheese making. The Cheese Making Certificate courses and the internship can be completed over two years or up to six years. The internship can be done in the second year.
Courses:
Courses are currently online and 3 weeks in length, typically requiring 28 hours of study and lecture time.
For more details and courses open for registration, please refer to the program page of the Cheese Maker Certificate
Introduction to Cheese Technology (online - May 2022)
Introduction to Dairy Fermentations (online - September 13 to October 1, 2021)
Cheese Composition and Yield control (online - November 8 to 26, 2021) Register Now
Cheese Safety and Quality Assurance (September 2022)
Cheese Ripening, Packaging and Grading (November 2022)
Master Classes, one offered every year in February. Currently planned Master Classes include Ripened Lactic Cheeses and Stretched Cheeses.
Internship - The work placement is a minimum of six months of hands-on experience in some practical area in the cheese industry. That will frequently be hands-on experience in cheese manufacture, but it could also be grading, inspection of cheese plants, working as a cheese buyer, working as a cheesemonger, or other practical experience as approved by the instructors.  At least three courses are required before enrollment as an intern.
Completion of the Certificate:
You can request your parchment through the Open Education Student Portal once you have completed all requirements.
Contact for Information:
If you have any questions about the Cheese Maker Certificate or courses, please email: fsevents@uoguelph.ca
The development of this certificate was supported by the Canadian Dairy Commission.
Funding opportunities:
Canada-Alberta Job Grant | Alberta.ca
Canada-Manitoba Job Grant (gov.mb.ca)
Canada - Newfoundland and Labrador Job Grant
SkillsPEI - Workplace Skills Training
Workplace Innovation and Productivity Skills Incentive - Government of Nova Scotia, Canada
Canada Nunavut Job Grant (CNJG) | Government of Nunavut